ONLINE GUIDED GOLF MOVEMENT HEALTH
The unique movements required by the game of golf can take a toll on the body. At Stretch Affect, we assess the body as it relates to your golf swing and teach you the proper stretching techniques that you need in order to prepare your body for a full 18-holes of swing consistency and aid in your post-round recovery.

Movement,
at your fingertips
Pain-Free Performance is available in an easy-to-follow program.
Our renowned golf mobility program is customizable to your unique needs, allowing you to get golf-specific performance training tailored to the needs of your body. And because it's online, you will get everything you need from the comfort of your home, on your schedule.
We would be nothing without our customers
Join now and you'll have access to our weekly Team call. Live, or on-demand. Grow, learn and be with the best. You'll be in good company.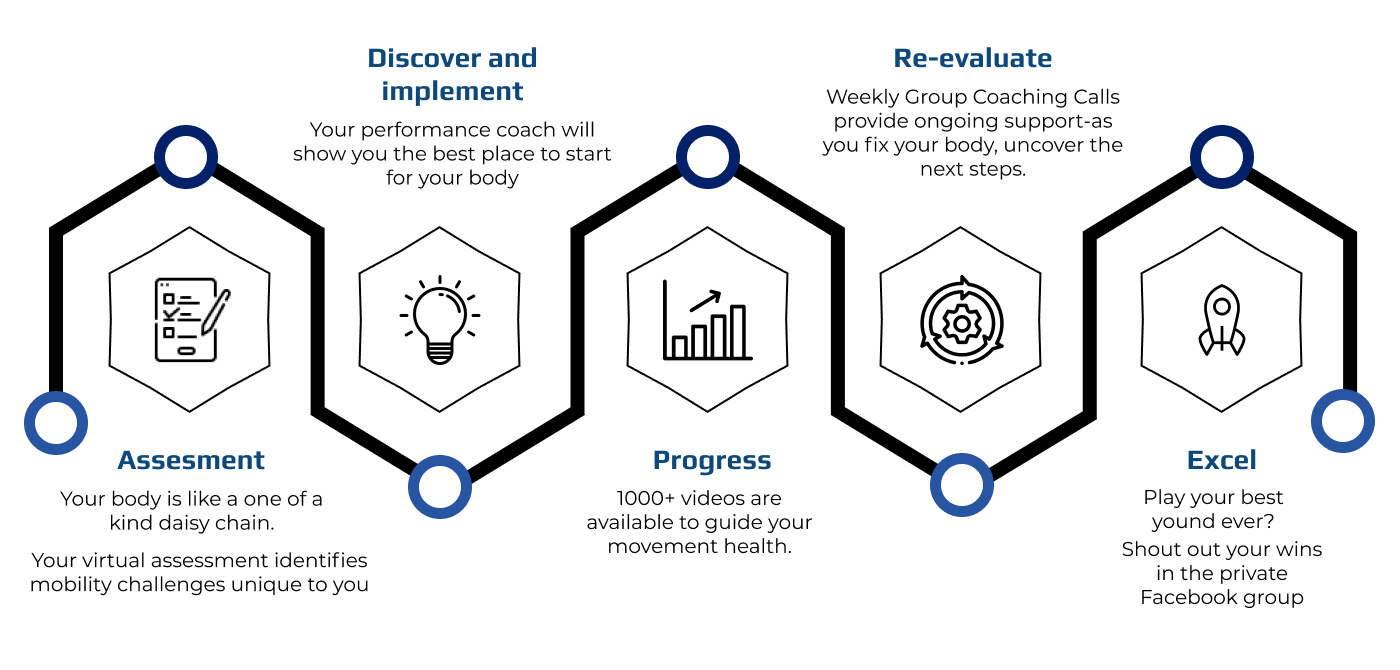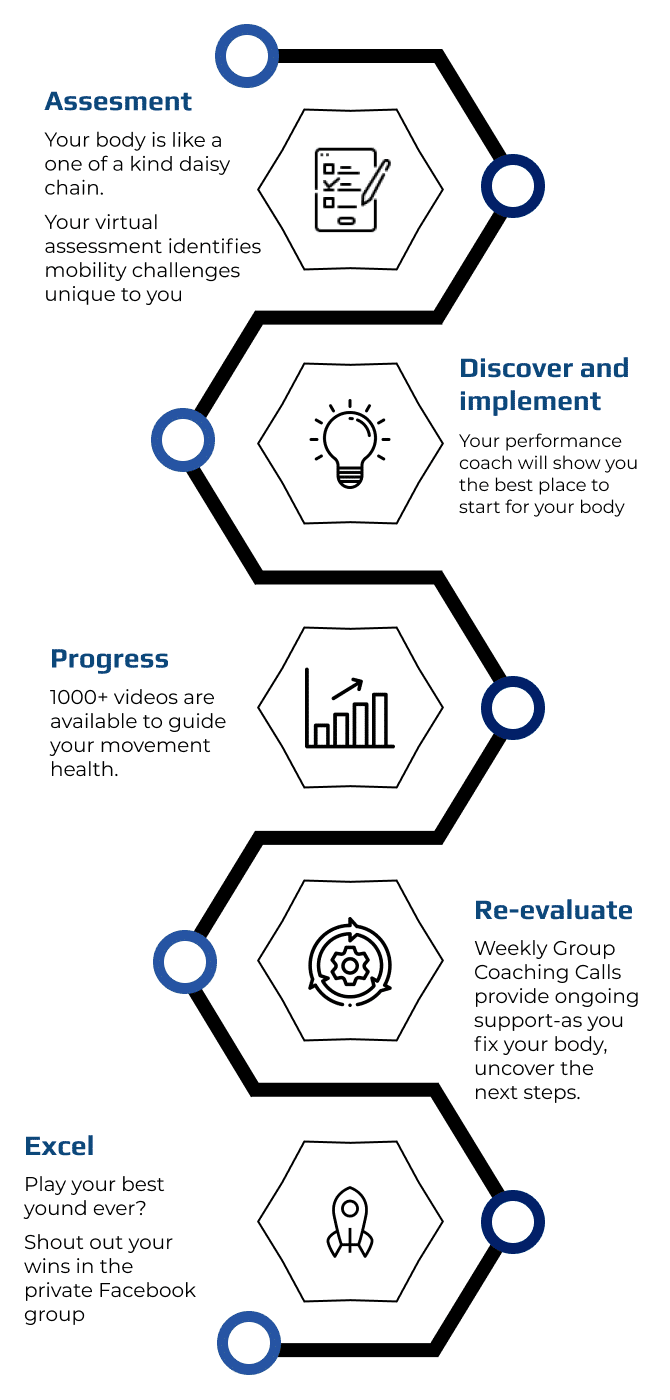 Have you tried "Everything"... and still find yourself limping around the day after a round?
This program is for anyone who thinks the 19th hole is for bragging not limping. If you've tried everything from Swing Lessons to Physical Therapy visits to excessive amounts of Vitamin I (that's Ibuprofen to your free-moving types), and still struggle to make your best shot, then this program is for you. Our unique process of assessing the body, and aligning its abilities with the physical requirements of a powerful swing will point you on the path to free movement.
If you are ready to move freely, and play your best then what are you waiting for????
We have helped hundreds of golfers achieve their "best game ever" through wellness, physical fitness, and performance.
And now we are offering this to you as a pathway to Pain-Free performance. But, the most essential component in your improved performance and the Pain-Free journey isn't us.
It's you!

Pro Plan
$247 for 3 months
$49 per month after that
1/1 virtual physical assessment to start you on your journey.

Guided Program (via our app) to keep you moving in the right direction.

Weekly Group Coaching Calls led by our team of Movement Health professionals including Physical Therapists, Manual Therapists, Nutrition Specialists, and more. These session will cover specific cases, answer questions, and demonstrate tricky exercises. Each call will be added to our library within 12 hours of the call for your convenience.

Access to Discounted 1:1 Sessions.

On-Demand Access to our Education Library of over 1,000 videos (growing daily), showcasing specific stretches, soft tissue techniques, corrective exercises, product techniques, and 30-60 minute joint control classes based on body part limitations.

Digital format puts mobility in the palm of your head.
No problem. We've worked with people just like you, and have developed a patented process to assess your unique needs, injuries, movement patterns, and challenges, and provide you with the necessary steps to start working through your own restrictions and let go of what is holding you back. Our team combines Doctors of Physical Therapy, Movement Health Practitioners, and years of experience and training to look at the WHOLE you, not just the tiny part of you that insurance said your Physical Therapist was allowed to treat in that 12-minute session.
The first thing every participant will do upon intake is signing up for their physical assessment with one of our Movement Health Practitioners. From here, you will be pointed to the first set of exercises in our curriculum to start down your own personal path to movement health.
Exactly! We created this program to be done on the go. Sure, you'll want to zoom on in, virtually or in person, for your assessment but once we do that everything else is on your schedule. Your daily routine can be done in just 10 minutes when you're ready for a mid-day coffee break, even. Our weekly team calls are hosted on-demand as well so you can learn from the comfort of your couch with a tasty cold beverage.
Absolutely! We are all better together. What's the fun of playing golf if your buddies are all too gimpy to show up? That's why we offer a weekly Team Call. All of our participants are invited to join and share, grow and learn from our experts and each other.
Chris Wilke
CSCS, PICP, ART,  
TPI, FRCms, SFMA 
Chris Wilke
Chris strives to inspire extraordinary humans to stretch, grow and thrive through a movement-based lifestyle. His goal is to create an environment where achievers are empowered with the knowledge and tools necessary to excel at sport and life.
Kyle Valery
Kyle brings out the best in everyone he encounters and helps people implement healthy habits that lead to lasting change. Interdisciplinary training provides a holistic approach encompassing nutrition, Active Release, manual therapy, psychology, and strength training.
Justin Balleza
Doctor of Physical Therapy 
TPI, ART, SFMA, Gait, TM 
Justin Balleza
Justin is a doctor of physical therapy and has worked with athletes of all levels.
Dr. Justin's superpower is treating each individual as a whole. He has an uncanny ability to creatively adapt your experience to meet your specific needs and abilities.
Nick Perkins
Doctor of Physical Therapy 
OCS, ART, CCI, IASTM, USAW 
Nick Perkins
Dr. Nick Perkins was born and raised in San Diego, CA. From a young age he was involved in multiple sports, and eventually became a tri-sport varsity athlete during his High School years. In 2005 he was awarded North County San Diego Scholar-Athlete of the year. He later earned a Bachelor of Science in Public Health Science from the University of California Irvine.